VIDEO | Tony Robbins Endorses Thor & NovoTHOR Therapy, used by Texas Laser Therapy, LLC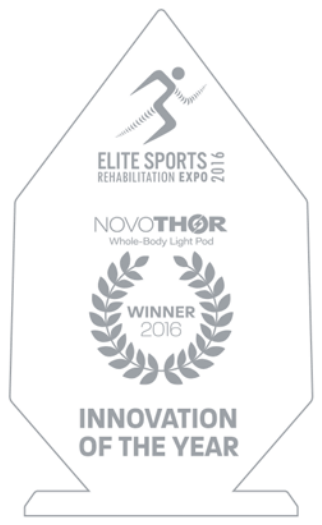 NovoTHOR Whole Body Wellness Pod
​​
NovoTHOR was awarded the "ELITE SPORTS REHAB INNOVATION OF THE YEAR" award by the Elite Sports Rehabilitation Expo for our NovoTHOR Full Body Recovery Bed.
​
The NovoTHOR is a whole body delivery system of Photobiomudulation (PBM) Therapy. The advantage of the NovoTHOR is it works on the whole body in just 8-15 minutes. Regular sessions have been shown to contribute to reduction of pain, improved muscle performance and reduction of muscle fatigue.
​
Click HERE for samples of published research.
NovoTHOR is NOT a tanning bed. It does not heat the skin, nor does it emit harmful UV-A or UV-B rays. It does not cause the skin to lose elasticity and wrinkle prematurely.
​
NovoTHOR Full Body System and the LX2 Spot Therapy system have been meticulously manufactured to the highest clinical standards for the single purpose of enhancing your wellness. NovoTHOR was developed by THOR Photomedicine Ltd – a market leader in Photobiomodulation (PBM) Therapy. Thor's products and expertise ensure we deliver the right power density and optimal dose. THOR partners with leading Universities (Harvard Medical School, Massachusetts General Hospital, Boston University, Brigham and Women's Hospital (Boston), Massachusetts Institute of Technology (MIT), and Leiden University Medical Centre, Amsterdam), publishes in peer reviewed medical journals and presents at all the major PBM Therapy conferences. Thor is the only company with FDA, CE, TGA, Health Canada and NATO clearance for their medical products. To learn more about THOR and links to THOR's extensive research and treatment library go to www.thorlaser.com, and www.novothor.com.
​
Unlike drugs and surgery, PBM
actually promotes muscle & cellular regeneration

reduces inflammation and pain

is non toxic

is non invasive

has no side effects​
The NovoTHOR also helps patients meet their general wellness goals.
​
Regular use of the NovoTHOR has shown to promote and/or contribute to the following:
Recovery From Acute Injuries

Reduced Inflammation, Stiffness and Pain

Stimulate Cell Repair and Function

Increased Circulation

Wound Healing

Effective Burn Treatment

Improved Lipid Profile

Treatment for Fibromyalgia

Lymph Drainage (reduce swelling)

Improved Immune System

General Wellness

Improved Muscle Repair and Recovery

Improved Muscle Strength and Development

Elevated Moods (aids Depression & PTSD symptoms)
​
Over 550 Randomized Controlled Trials have been published using PBM devices, and the technology has featured in over 4,000 laboratory studies. PBM is used in thousands of clinics, hospitals and elite sports institutions in over 70 nations.
​
The advantage of the NovoTHOR is that it treats the whole body. Regular treatments of just 8-15 minutes reduces pain, while improving muscle performance and reducing fatigue.
People who routinely use the NovoTHOR have reported one or more of the following observations:
Improved Mood

Improved Energy Levels

Increased Mental Clarity

More Calm and Relaxed

Improved Skin Condition

Reduced Signs of Aging

Improved Sleeping Patterns

Improved Bowel Function

Improved Athletic Performance with Quicker Recovery

Reduced symptoms from PTSD (better/longer/deeper sleep, reduced anxiety, better ability to focus)
​
The NovoTHOR is safe, relaxing and has no negative side effects. Clients relax into the NovoTHOR treatment pod for 8 - 20 minutes of whole-body restorative light treatment. The treatment may be repeated two or more times a week.​
​
READ MITOCHONDRIAL DISEASE NEWS: NovoTHOR, a 'Star Trek-like' Light Therapy for Mitochondria, Wins Invention Award